Conducts all rehearsals and concerts. Provides recommendations for programmes/publicity material and establishes links with local media.

Presides at all meetings. Acts on behalf of the Committee on all urgent matters, ensuring that all day to day Choir 86 functions are carried out correctly and the constitution of the Choir is followed. Liaise with MD & Accompanist to ensure the wishes of the members are being met.
I have always lived & worked in South Devon – why move away from such a beautiful place !
At primary school the music teacher labelled me a 'grunter' unable to sing.  My singing started in secondary school in Wallies Wednesday Choir.  I later joined a choir run by John Sykes who introduced me to choral work, Vivaldi's Gloria.  The Choir disbanded in 1977, 10 years later I joined Choir 86.  Over the years I have held many posts including Treasurer from 1996, then taking on the Chairmanship in 2016.  My interests include reading and walking.

To deputise for the Chairman on all matters. Provide write-ups for use as a marketing/publicity tool.
I have been a member of the Choir for over 15 years but have been singing and playing the guitar in St Joseph's Church, Newton Abbot since 1991 where I now lead the Youth Music Group.  I am a semi-retired Professor at the University of Plymouth where I used to sing in the University Choir.  I now sing Second Tenor and accompany the choir with guitar where needed.
I have extensive international links and am often travelling abroad to China and Saudi Arabia for work. 

Maintains all financial records of the Choir, ensuring accounts are audited. Responsible for collection of all monies and payment of all accounts.
Having been a forces wife for over 30 years I have been very lucky to have lived in some great places around the world – and some not so great – but that means that I was never anywhere long enough to get involved with local choirs.
I came to Devon 22 years ago and joined the village ladies choir in 2005 followed soon after by Choir 86, becoming treasurer two years ago.
My other interests are gardening, reading and various crafts, plus quite a bit of my time is taken up with walking my dog Ben.

Issue all agendas, record minutes of all meetings ensuring all actions are accomplished. Distribution of minutes to the committee. Deals with Choir correspondence.
Jim Galvin has been Secretary since September 2014. He first joined Choir 86 in 2006.
A life-long love of music includes some academic study, beginning with an 'O' Level in 1977, through an 'A' Level in 1979 to a pair of 30-point courses as part of his Open University degree, awarded in 1997. Although mainly involved in instrumental music through school and again as one of the members of the University of Reading Department of Meteorology orchestra in 1999-2000, Jim was a member of the Met Office choir between 1984 and 1989, then again between 2000 and 2006.
In 2000, Jim wrote the music for the Mass at his wedding and music arrangement has formed an interesting hobby (although it remains to be seen whether the arrangements are much liked).
A particular love of singing has been able to blossom through his membership of Choir86. 

Maintain a record of all music owned and ensure that new music titles are passed to Marketing for website music list update. Source any music hire requirements along with MD. Keep a list of music issued to choir members. Ensure choir procedures are followed when hiring music and that such music is returned, paid for and checked.

Marketing & Publicity Manager
Overall responsibility for all publicity & marketing material including, but not limited to, production of concert posters, leaflets, tickets and programmes. Maintains master copies of all Choir 86 templates. Responsible for updates to the Choir 86 website and Facebook pages.
Born in Paignton, after my school years at Marist Convent I started out in a secretarial role with a local insurance broker.  For a while I changed direction into crafts, producing knitwear for designers and the London Catwalk.  Returned to admin in 2001, joining a local company managing a team responsible for processing orders from around the world.
Hobbies include, reading, craft work & holidays (particularly cruising when I can afford it!)

Organises catering for Choir 86 concerts, including notification of required refreshments with the help of the Membership Secretary. Responsible for preparation and serving at concerts. Ascertain type of facilities avaialble at each venue with Concert Co-Ordinator. Maintain health & safety protocols at all times.

Responsible for viewing and booking of venues (accompanists and soloists when required). Circulates concert attendance list and organises seating plans for each venue. Arranges payment with Treasurer, of soloists, venue hire and any gifts.
Informs choir members of date, venue and time changes of rehearsals and concerts.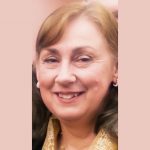 Responsible for welcoming new members, obtaining and checking membership documents in-line with data protection law 2018.
Distribution of concert tickets and publicity material provided by Marketing to choir members and collection of ticket money along with Treasurer.
Distributes concert catering requirements as supplied by Catering Co-Ordinator.